Call The Auto Pro in Newark, Ohio for all your auto repair needs
Why call The Auto Pro in Newark, Ohio for all your auto repair needs?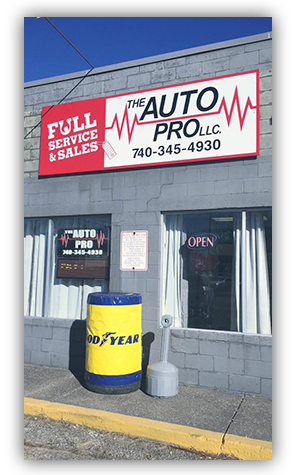 When it comes to auto repair services, finding a reliable and trustworthy shop is essential. In Newark, Ohio, The Auto Pro is a leading provider of comprehensive auto repair solutions. With a proven track record of excellence, a commitment to customer satisfaction, and a team of highly skilled technicians, The Auto Pro is the go-to destination for all your auto repair needs. This article will explore why The Auto Pro should be your preferred choice for automotive maintenance and repair in Newark, Ohio.
Extensive Range of Services The Auto Pro offers various services to cater to all your auto repair requirements. Whether you need routine maintenance, engine diagnostics, brake repairs, transmission services, electrical system troubleshooting, or any other automotive service, The Auto Pro has you covered. Their experienced technicians possess the expertise to work on all vehicle makes and models, ensuring that whatever the issue, it will be diagnosed and resolved efficiently.
Highly Skilled and Experienced Technicians At The Auto Pro, your vehicle is in the hands of experts. Their team of technicians is highly skilled and undergoes regular training to stay updated with the latest advancements in automotive technology, ensuring knowledgeable and experienced professionals repair your vehicle. By entrusting your vehicle to The Auto Pro, you can have peace of mind knowing that qualified professionals are servicing it.
Cutting-Edge Equipment and Tools To provide top-notch auto repair services, The Auto Pro utilizes state-of-the-art equipment and tools. They invest in advanced diagnostic technology to accurately identify the root cause of any problem with your vehicle. By employing modern equipment, they can efficiently diagnose issues and perform repairs precisely. This commitment to using the latest tools demonstrates The Auto Pro's dedication to providing high-quality service and ensuring the longevity of your vehicle.
Commitment to Customer Satisfaction The Auto Pro places customer satisfaction at the forefront of its operations. They strive to provide a positive and hassle-free experience for every customer who walks through their doors. The friendly and professional staff at The Auto Pro listens attentively to your concerns, thoroughly explains the repair process, and provides transparent pricing information. They believe in building long-term relationships with their clients based on trust and exceptional service, going above and beyond to exceed customer expectations.
Competitive Pricing and Honest Assessments The Auto Pro understands the importance of fair and transparent pricing. They offer competitive rates for their services without compromising on quality. When you bring your vehicle to The Auto Pro, you can expect honest assessments and accurate quotes. Their team will discuss the repair options with you, explaining the necessary repairs and associated costs. This transparency ensures you make informed decisions about your vehicle's maintenance, enabling you to budget effectively.
Conclusion With a comprehensive range of services, a team of skilled technicians, state-of-the-art equipment, a commitment to customer satisfaction, competitive pricing, and efficient service, The Auto Pro in Newark, Ohio, is your ideal choice for all your auto repair needs. By choosing The Auto Pro, you can rest assured that your vehicle will receive top-quality care and attention from experienced professionals. Contact The Auto Pro today and experience their exceptional auto repair services.